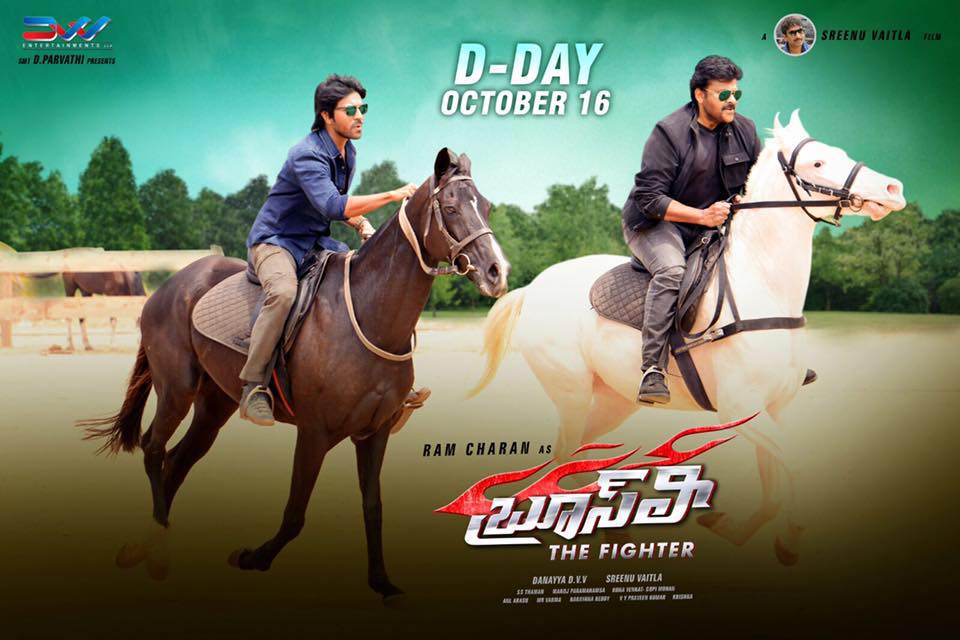 Bruce Lee – The Fighter Review Roundup
Review Overview
Music
Action
Screenplay
Comedy
59
3.25/5
Summary :

Release date : October 16, 2015

Director : Srinu Vaitla

Producer : DVV Danayya

Music Director : S. Thaman

Starring : Ram Charan, Rakul Preet Singh,Kriti Kharbanda

User Rating:

2.85 ( 1 votes)

59
Basing on the reviews of the top rated sites of tollywood industry…
123telugu.com Rating : 3.25/5
On the whole, Bruce Lee is a decent family entertainer. Ram Charan's mature performance, stunning songs and racy first half are solid assets. If you manage to sit through the average second half, you are surely going to love mega star's entry at the end and come out with a smile on your face.
idlebrain.com Rating: 3.25/5
First half of the film is smooth with plot thickening as interval approaches. Second half deals with hero proving certain things in order to save his family. One tend to expect hilarious entertainment when you see character of Brahmanandam, but Seenu Vaitla concentrated on family emotions this time. Plus points are family story line, Charan's performance, Chiranjeevi's special appearance, music, dances and cinematography. On the flipside, a better entertainment in second half would have taken movie to the next level. On a whole, Bruce Lee is a family oriented film which has all ingredients for a box office success with Ram Charan dishing out an all-round performance!
Tupaki.com Rating: 2.75
'Bruce Lee' is the story of a Stunt Man fighting all the odds for his family. In a way, Director highlighted the mindset of lower middle class people and importance of Girl Education. However, An Inter dropout hero becoming into an IB Department Official is unconvincing.
The moment Sreenu Vaitla, Kona Venkat & Gopi Mohan teamed up for 'Bruce Lee', Audience were expecting nothing short of hilarious entertainment from them. Surprisingly, Vaitla concentrated more on the human emotions rather than entertainment which is he is known for! Of course, Emotional Scenes of Ram Charan with Rao Ramesh & Kriti Kharbanda were touching to say the least.
Characterization of Hero has been designed so well but one can't find freshness in the story. Screenplay of 'Bruce Lee' appears routine with traces of 'Dookudu' & 'Baadshah'. Vaitla mark hilarious entertainment is missing in 'Bruce Lee' inspite of using the services of several star comedians. The way Brahmanandam (Suzuki Subrahmanyam) was used in the movie reminds us of Vaitla's past two hits but the comedy skits will entertain the audience to some extent.
At the time when audience are going restless with not much happening in the Second Half, Chiranjeevi's Cameo in the Climax lifts their spirits and fans could only jump in joy. It gave a good feeling to audience while stepping out of the theaters despite all the flaws. The helicopter sequence reminds us of Indra's action block. Chiru's rugged look, screen presence and style were simply magnificent.
While the First Half is partly entertaining, Second Half is a big let down and Megastar's re-entry is the only saving grace. Overall, 'Bruce Lee' is just an average fare.