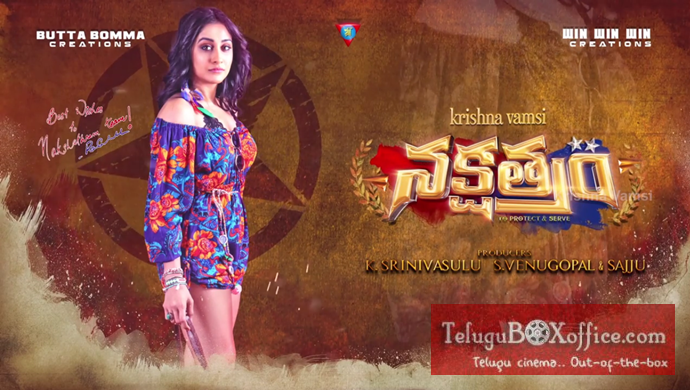 Review: Nakshatram- Lousy Cop Drama
Review Overview
Music
Camera Work
Story
User Rating:

1.7 ( 2 votes)

41
Nakshatram was in the making for over a year now. By now, everyone has lost interest in the film and are only waiting to see what Sai Dharam Tej and Sundeep Kishan do to save the film. Will they be successful, well, keep reading this review to find out?
Story:-
The city of Hyderabad is lit up with many terrorist activities and Prakash Raj is made in charge of the operation to nab the criminals. On a parallel note, Sundeep Kishan is the man who wants to become a cop but gets distracted because of a drug addict played by Tanish. Having no choice, Sundeep decides to become a cop by himself. But Sai Dharam Tej's sudden entry changes things upside down and also spoils the terrorist mission. How this entire mystery is solved will be known only when you watch the film.
Cast and Performances:-
Starting with the bad guy Tanish, the young actor shows a lot of promise in a negative role. His screen presence as the villain is good and his dialogues with Tej are nice. Sundeep Kishan plays his role to the gallery. Everyone will relate to his pain and agony of him becoming a wannabe cop. Prakash Raj is loud as a senior cop and nothing new to showcase. Pragya Jaiswal is very impressive as the cop and even shows good glamor for the masses. Senior actress, Urvasi hams to no extent and so was Shivaji Raja.
Technical Department:-
Nakshatram is technically very weak and does not have the trademark Krishna Vamsi camera angles. Music is pathetic as all the songs are so loud that you feel suffocated. Screenplay and direction by Krishna Vamsi are so bad that the film dies only because of his over the top narration. He has killed the film to no extent with his over action and loud actors. The film goes for on and on and does not end irritating the audience. The plot is also old school.
Highlights:-
Full Skin show

Tanish


Sundeep Kishan
Minus Points:-
Logicless story


Lengthy run time

Emotionless plot
Summary:-
It is very sad to see a maker like Krishna Vamsi make a film this bad. Nakshatram is the veteran director's weakest film to date and has nothing new to the audience. There is plenty of skin show in the film and this will please the masses but for the regular audience, it is a boring fest.