Review Overview
Summary : Manamantha is a clean, realistic emotional family entertainer which is worth a watch for everyone who is a fan of sensible cinema.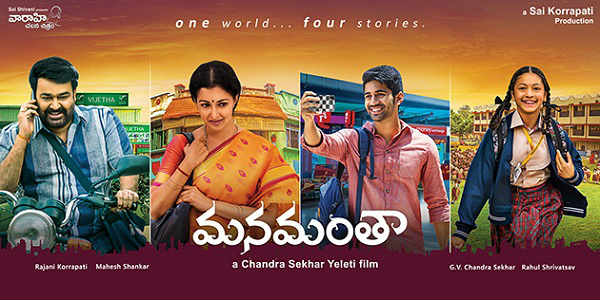 Writer-Director: Chandra Sekhar Yeleti
Cast: Mohanlal, Gautami
Banner: Varahi Chalana Chitram
Music: Mahesh Shankar
Editor: GV Chandra Sekhar
Dialogues: Ravi Chandra Teja
Producer: Sai Korrapati, Rajni Korrapati
Story:
Sairam (Mohan Lal) is an assistant manager in a super market. He along with his colleague Viswanath (Harshavardhan) vies for the Manager post. Gayatri (Gautami) is a middle class homemaker who always dreams of a settled and happy life. She helps her lecturer in the past whose son now becomes a billionaire in Singapore. She is offered a job in Singapore which demands her to leave her family. On the other hand Mahita (Raina Rao) is a sensitive school going girl who is moved by the state of a poor boy.
Learning that he is interested in the school, Mahita joins him into her school without permission. Abhiram (Viswanth) is a brilliant student who eventually deviates and gets lost falling in love with Aira (Anisha Ambrose). Due to series of events, Sairam faces a challenge of finding Viswanath, Mahita had to find that poor boy, Abhiram decides to commit suicide & Gayatri had to leave for Singapore. How are they related to each other and how did they overcome their challenges form the rest of the story.
Star Performances:
Mohan Lal: Glad to see this class apart back in Telugu cinema. Talking of him, his Telugu dubbing deserves a mention. Though it carries a non-Telugite tinge, he pulled it off well. His subtle yet intense performance can even give you tears at times.
Gautami: Being her straight Telugu film after a long while, Gautami proves that she isn't done.
Viswanth: This young promising actor does justice for his character. With his lively performance he announced that he is going to stay here for long.
Harshavardhan: This able actor gave a performance on par with Mohan Lal & others.
Dhanraj: Unlike his routine comedy, he plays a subtle supporting role in this film. You might miss the usual comedian in him.
Urvasi: She plays a role with comic tinge- a supportive role to Gautami's role adding value to the emotional quotient of the film.
Vennela Kishore, Nassar and Chandra Mohan play brief yet significant roles in the film.
Analysis:
Unlike his previous intense films like Aithe, Anukukunda Oka Roju, Okkadunnadu and Saahasam, Chandra Sekhar Yeleti came up with an emotional family entertainer this time which isn't a regular formula film.  Manamantha is four different stories of four different age groups in one script and we need to appreciate the director for attempting a script like this. All the characters in the film are so real and the performances subtle yet intense. The director does a good job in extracting good performances from all the actors in the film thus elevating the emotional quotient of the film.
Though the first half of the film is a bit slow in its progression, it will eventually absorb you into its world. A twist in every story as the interval bang leads to an intriguing second half. This segment has proper Chandra Sekhar Yeleti's signature in terms of engagement and building up the suspense factor. The last twenty minutes is the key asset of the film.
Positive Aspects:

Lead Cast performance especially Mohan Lal and Raina Rao.
Engaging narration especially in the Second Half.
Cinematography
Music and Background Score.
Negative Aspects:
Stories of two lead characters.
Narrative in the first half.
Lack of commercial entertainment might be a disappointment for the masses.
Music
Review Overview
Summary : Manamantha is a clean, realistic emotional family entertainer which is worth a watch for everyone who is a fan of sensible cinema.