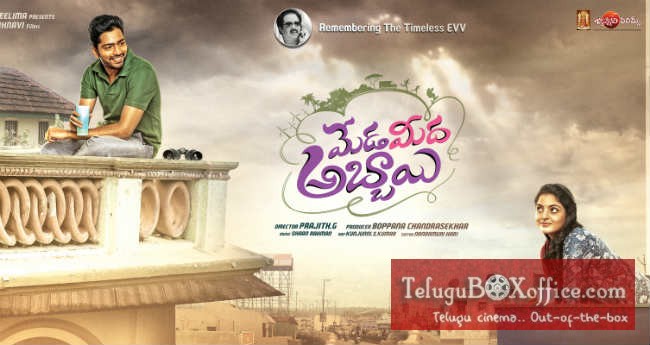 The success of Meda Meeda Abbayi is so important for Allari Naresh that it can make or break his career. The film has finally hit the screens today and read on to see whether it will save his career or not.
Story:-
Srinu(Allari Naresh) is a die hard movie buff who wants to make it big in films. To realize his dreams he starts his journey to Hyderabad. In the train, he accidentally lands a selfie with the heroine Nikhila Vimal. But he does not know that very simple selfie of his will turn his life upside down and put him in sorts of troubles. What are those and how he comes out is the whole story about?
Performances:
For the first time, Allari Naresh has tried to put a straight face and made other do comedy. Looks like this also has not worked as Naresh looks quite dull and does not have much to do in the film. Hyper Aadi is the only man who provides some comedy with his one liners. His role as a sidekick works well all over the film. Nikhila Vimal makes a simple debut and does not have much greatness to talk about.
Director Prajith has failed to recreate the magic from the original. He has made the film even worse with his horrible narration. Not once during the second half do things look good. Even though songs play in the background they are a torture. The point of getting a man into problems because of selfie looks quite silly. Production values are decent. The screenplay is so bland that things get boring for the audience right from the start of the second half.
Highlights:-
Minus Points:-
Basic theme of the film

Boring execution

Lack of enough entertainment

Summary:-
Looks like Allari Naresh has to wait even longer to get a hit. Firstly, he needs to get things right script wise. He is good at over the top comedy and he should stick to simple films. Films like Meda Meea Abbayi will not take him closer to success and you too our audience please do not go anywhere near this film.