Review Overview
Summary : Cast: Venkatesh, Ritika Singh, Nasser, Zakir Hussain Banner: Y Not Studios Cinematography: K A Sakthivel Music: Santosh Narayanan Producer: S Sashikanth Writer-Director: Sudha Kongara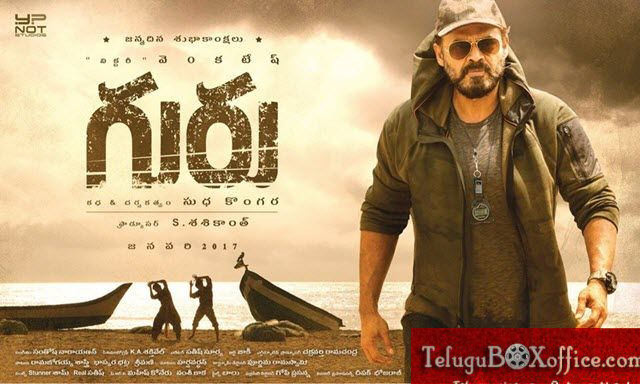 Plot:
Adithya (Venkatesh Daggubati) is a failed boxer yet a headstrong boxing coach who shares a troubled past and enmity with Dev Khatri (Zakir Hussain), the chairperson of Boxing Association. Adithya's attitude and conduct irks Dev and his lobby in the association who demote Adithya to Vizag where he encounters Rameshwari alias Ramudu (Ritika Singh), a fisherwoman.
Only Adithya spots and believes the natural boxing talent in this most ziddi and adamant girl and offers to train her putting his name and career at stake. However, his intention and training methodology is quite misunderstood by everyone including Ramudu who eventually fails to live up to Adi's expectations and embarrasses him on the big day. What pain did the Guru, his dearest sishya and their mission went through and how did they triumph forms the rest of the story.
Performances:
Venkatesh: Yes we know he is an exceptional actor but once 'Guru' was announced, we honestly wondered 'what difference can Venky make?!' to this much accomplished and acclaimed character and film. But Venky once again proved that he can amaze you with his signature given any character. Be it his attitude throughout the film or his intense act towards the end of the film, Venky is the one who can take it close to your hearts.
Ritika Singh: Despite doing the subject for the fourth time, Ritika retained the vigor and gave the character all it deserved. She could mouth her Telugu dialogues well too– now that's quote unusual you know.
The rest of the characters including Mumtaz, Nasser, Thanikella Bharani, Sunitha, Raghu etc display their finesse.
Analysis:
Guru tries to check the maximum possible boxes. It is definitely not the "usual kind" of Telugu cinema we are habituated to. With a clear intent and a robust plot comprising of decently balanced characters and their respective emotional arcs, Guru is certainly a commendable attempt. But if you ask us about the emotional connect, it might hit hard to anyone who is watching it for the first time.
There is no single dull moment in the 116min drama– due credits to the brisk and content driven narrative. Dissecting this script into first half and second half would not be fair but the placement is just fine. The last 20mins of the film could engross you whatsoever – that's already a good hint of success.
Apart from the above, Guru guarantees you a good story that you often see on Telugu celluloid. Now if you start giving us some better names in the same league, we simply can't resist appreciating your INCREDIBLE sense of appreciation and urge for Excellency!
Positive Aspects:
Performances of lead cast especially Venkatesh, Ritika & Zakir
Story and screenplay
Music
Cinematography
Editing
Production design
Negative Aspects:
Out of the routine commercial league might deprive it from enjoying a mass approval.
An enhanced way of executing emotions and treatment could have placed the film in the next horizon.
Verdict:
GURU is definitely a good one-time watch and the narrative along with the performances makes it a worth watch! Tuning your mind to watch a good film than a paisa vasool can actually help.
Review Overview
Summary : Cast: Venkatesh, Ritika Singh, Nasser, Zakir Hussain Banner: Y Not Studios Cinematography: K A Sakthivel Music: Santosh Narayanan Producer: S Sashikanth Writer-Director: Sudha Kongara